Monica Dannas
I have always loved to travel. I grew up spending many of my summers in Colombia, South America, visiting my grand parents, aunts uncles and cousins. My immediate family lived in LA as my parents and three elder siblings had immigrated from Colombia before I was born. The travel bug hit me hard once again during summer between my freshman and sophomore year in College. I sold all my belongings, bought a Eurail pass and went to Europe for three months. During my visit to Ios, Greece I met a Swede who would eventually become my husband. Once I arrived back in LA, a deep depression set in as I could not imagine a life of not traveling and I was completely broke. I decided to become a flight attendant, it was the perfect fit for me and continues to be a job that suits me perfectly. I am beyond thrilled to have met Robert.
I love the philosophy behind YCSMH and I am thrilled that he has provided the perfect way to share the Quintero family farm in Armenia, Quindío. I am so excited to be a Happy Embassador and to share the magical beauty that Colombia has to offer.
Claudia Queiroz
Twenty years ago this Brazilian applied to become an International Flight Attendant looking forward to meeting new people and going to exciting places.Upon until today, my heart still beats faster as I land at a new destination.
Three years ago Ireland called, in fact, Be aware, as it does just that, as I have experienced and seen many people feel called to Ireland, again and again…
Since then, I have visited four times, hiking and biking and I am super excited to have you come along.
I am honored to be your Happy Ireland Ambassador, and I am looking forward to this incredible trip, where we will learn the history of this gentle island, meet with it's welcoming and wicked funny people, dance to Traditional Irish Music, bike beautiful Killarney National Park, hike the beautiful Dingle Peninsula and be enchanted by it's gorgeous sites!!
Claudia O'Happy
Becky Baker
My name is Becky and I'm an enthusiastic Happy Ambassador who loves people and LOVES to travel. No really, I do. I am a native Floridian who loves the outdoors and enjoys all things water related. My favorite hobbies include scuba diving, hiking, cooking, photography and learning about wildlife.
I enjoy a good book, a good beer, a good laugh and good company, but I also love adventure and I'm always ready to roll with the punches. Having been employed with a major US airline for four years (and counting), I am excited to expand my travel horizons and take advantage of every opportunity to see this big wide world we live in. I always dreamed of traveling as a child, and my globe was my favorite possession.
My goal is to eventually visit every country in the world! I was fortunate to travel on a You Can't Steal My Happy trek to Uganda, and I can honestly say it was one of my favorite travel destinations. The people and the overall beauty moved me so much, and I am honored that Rob has trusted me to lead future trips to Uganda.
Barbara Didonato
Hello HAPPY people!! My name is Barbara and I am so honored and excited to be a new Happy Ambassador. My travel journey with Robert started 4 years ago and I just finished my 9th Happy trip. I never traveled before because I never had anyone to go with. Now I'll go on any of these trips by myself because there are so many adventurous, fun people on all the trips. I've made so many amazing new friends and look forward to making many more.
It's hard to put into words how AMAZING and LIFE CHANGING these trips have been for me. I have completely stepped out of my comfort zone by zip lining, repelling into caves, snorkeling, learning to Boogie board, river rafting and even eating the leg of a scorpion!! Looking forward to more amazing memories
Kathy Matyas
Hello Fellow Travelers,
I'm Kathy , and I guess you could say I'm a Gypsy Soul. I've been traveling the globe for over 40 years and if my world map were a VooDoo doll it would be pinned to death. If for some reason, a snag develops in Plan A – I look at Plan B as another New Adventure.
My love of visiting new places ,meeting new people and making friends, all while laughing along the way ,truly makes me HAPPY !
I look forward to our paths crossing & making memories.
"Why postpone Joy"– Kathy M.
Steve and Alicia Schwartz
"Travel is the only thing you can buy that makes you richer."
We feel privileged and honored to be the newest Happy Ambassadors. Our zest for life, fun and adventure has enriched our lives in unimaginable ways. For instance, on our Happy Trips to Cambodia, Thailand, Vietnam and Croatia we not only had unique experiences, made lifelong friendships, but came back changed in the way we look at life. When you open your hearts and mind to the people and places in front of you, it transforms you.
Steve and I bring a combined 67 years of working for American Airlines. We look forward to sharing an entirely new level of Happy with you!!!
Ryane Moates
 Embrace Life with Passion is my motto for life and that is exactly what I strive to do every day! I believe we should all do (as often as we can) what sets our heart on fire and makes us feel fully alive! For me, that is traveling to new places, having encounters with exotic animals, and enjoying exhilarating adventures. Due to the deep wanderlust that courses through my veins, I've enjoyed travel to 45+ countries. Whether I am rappelling in Utah, paragliding in New Zealand, ziplining in Canada or hiking in Peru, I seize every opportunity to experience life to its fullest!
If travel sets your heart on fire, you're in the right place booking a trip with YCSMH! On our trips you will enjoy authentic cultural experiences, local traditions, and regional food. As your Happy Ambassador, I will be with you every step of the way to enrich your experience and to make sure your trip goes smoothly. I sincerely look forward to travelling with you and having lots of HAPPY adventures together!!
I live in Fort Worth, Texas. And when I am not travelling, I enjoy time with my family, playing pickleball and my work as an exotic animal handler.
Some of my favorite quotes:
I haven't been everywhere, but it's on my list. – Susan Sontag
"If you reject the food, ignore the customs, fear the religion, and avoid the people, you might better stay
at home."  – James Michener

"Adventure may hurt but monotony will kill you. We travel not to escape life, but for life not to escape us. Life is a daring, bold adventure, or it's nothing at all. -Helen Keller
Dana Garnjobst
Hello Happy Travelers! My name is Dana and I, like you, have a tremendous passion for travel. At the age of three, I was bitten by "the bug." I remember the excitement and joy of anticipating, then traveling with my grandmother. Since then, I have traveled as much as possible, working, living, and vacationing around the world.
I love meeting new people, learning from them, sharing adventure stories over delicious meals, and laughing, this is when I truly feel alive. So, to those I have previously traveled with, I thank you for the memories and the laughs. To those whom I have yet to meet, I look forward to our amazing adventures together, the treasured memories we will make, and the laughs yet to come, because no one can steal our happy!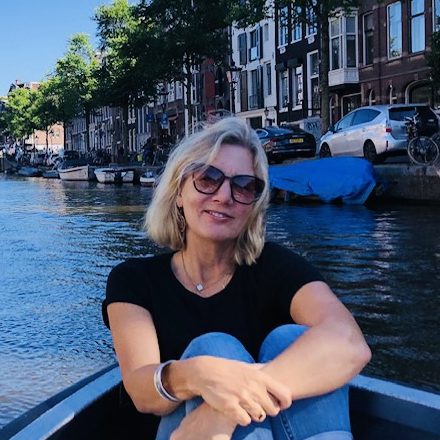 Judy Benn
Traveling has been in my blood since I took my first airplane ride at the age of eight months. Since then I have lived on four continents and visited 70+ countries. I spent my early school years in Liberia and Taiwan, and my career as an international trade consultant allowed me to spend the last 30 years living in Thailand and China. During that time I had the opportunity to visit many Asian countries and to pursue my love of adventure and scuba diving whenever I could. I am now enjoying a new chapter of my life dividing my time between Lisbon and Thailand (with an occasional stop in Dallas to visit my daughter).
My friends and family often start their emails to me with 'where are you today?'
I look forward to exploring new places, meeting new people and enjoying great food and wine.
I am very excited to be living in Europe now where I can hop on a plane and be in a new country in less than 2 hours!
In addition to traveling, I enjoy yoga, reading and music. I am also involved with the International Rescue Committee where I volunteer to assist refugees settling into their new lives.
I look forward to sharing my love of travel with you.