DURATION
8 NIGHTS / 9 DAYS
Private room : From $2400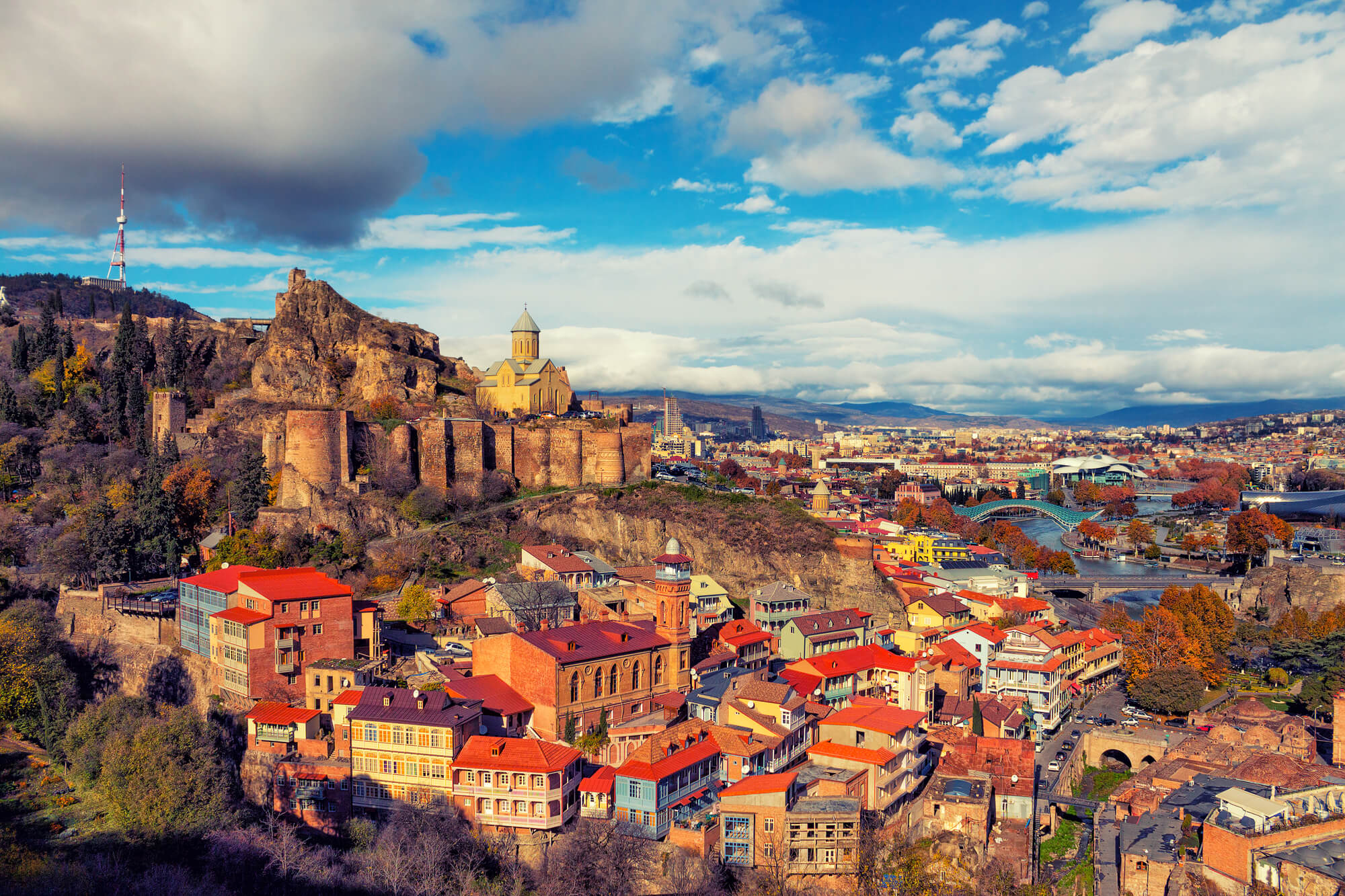 Beautiful Sites, Bites, Hikes, Wine, and more!
Georgian landscape is breathtaking and there is no exaggeration in this statement. It's a relatively small country but offers so much: Black Sea beaches (mostly full of stones but still decent enough to spend some relaxing time at), high Caucasus and lower lush mountains, incredible caves, green valleys and more.
Comfortable vehicle

Professional driver service

Professional guide service

4 star accommodations through entire trip program

8 included dinners

8 included lunches

"Qvevri" making excursion

Local family wine degustation

Local family lunch

"Tbilisi Wine Museum" wine degustation

"Khareba" wine degustation

"Khareba" Churchkhela master class

Break baking master class

"Tsinandali" wine degustation

"Alaverdi" yogurt degustation

"Alaverdi" wine degustation

Bread, cheese, and pickle tasting

"Tushetian" weaving master class

Local mountain guide for Lagodekhi trekking

"Velino" wine degustation

"Mokhevian House" felt making master class

"Mokhevian House" jam tasting

4WD Cars

Bottle of water per day per person
Travelers are responsible Flight tickets to and from Tbilisia.
Meals not mentioned in the itinerary are not included. Personal Drinks, any additional activities or transfers, gratuities, medical expenses or additional entrance fees to theatres, parks, museums/visitor centres not outlined in this itinerary, additional travel expenses or waiting time. Travel insurance are travelers responsibility.
Travel Insurance:
Trips booked after January 1, 2023 will be required to have medical travel insurance for all You Can't Steal My Happy trips. 
You Can't Steal My Happy recommends that you purchase a travel protection plan to help protect you and your travel investment against the unexpected. For your convenience, we offer travel protection through Travelex Insurance Services. For more information on the available plans or to enroll, click on the link below or contact Travelex Insurance Services at 800-228-9792 and reference location number 43-0656    "Travel Insurance is underwritten by, Berkshire Hathaway Specialty Insurance Company, NAIC #22276. 55Y"
Click on the link below to get a free quote. 
Day 1 :
Welcome to Georgia!
Once you arrive at the Tbilisi Airport, you will make your own way to the airport. After having a little rest we will go for a traditional Georgian dinner in a local restaurant.
Day 2 :
Tbilisi Walking Tour, Wine Tasting, and Dinner with Dancing
After breakfast, we will have a lovely stroll in the old part of the Capital city of Georgia. The old part of town offers a mixture of new and old architecture expressed with historical and religious legacies like (Metekhi church, Sioni cathedral, Anchiskhati 3 nave basilica, Juma mosque and etc.) beautiful cobblestone streets will lead us to beautiful monuments like Tamada and historical caravanserais of the old city, we will see ruins of Narikhala fortress on top of the strategic location of Capital. We will see and literally smell the reason why Tbilisi is called Tbilisi. The spot is known as Abanotubani and is full of hot springs and minerals. During walking, we will get introduced to Georgian wine culture and degustation wine in the building of caravanserai from 1650. After the lunch break, we will have a rest/free time and in the evening, we will gather around the dinner table in the restaurant (with a dance show program).
Day 3 :
Travel to Wine Region, Visit Nunnery and Town of Love, and More Wine Tasting!
After breakfast, we will drive towards the Kakheti wine region. After an hour and 20 min. drive we will visit village Badiauri (a small authentic road village) where we will bake Georgian bread and try bread, cheese, and pickles. After this pleasant stop, we will reach Bodbe nunnery where we will speak about a lady who Christianized Georgia and is buried in the 9th-century temple in beautiful Bodbe nunnery. After this spot, we will have a lovely walk in the small town of Signagi (town of love) town which offers beautiful streets, local production, and amazing sights in Alazani Valley. After the walk we will visit Khareba Winery 7,7 kilometer tunnel inside the mountain that nowadays is the biggest wine storage and high- standard winery in our country, we will degustation wine and have Churchkhela-making master classes in Khareba. After which we will go to our accommodation and help our hostess in the preparation of dishes to set Georgian dinner.
Day 4 :
Telavi Farmers Market, Duke's Palace, Kakhetian Villages, and More Wine!
After breakfast, we will visit the Telavi farmers market and see the local production after which we will go to local Dukes Chavchavadze's palace where we will go on an excursion inside of the beautiful palace and green yard after which we will degustation several glasses of wine. After this stop, we will head to Alaverdi monastery and see one of the biggest cathedrals from the 11-century nearby church we will degustation yogurt after which we will reach one of the Kakhetian villages Alvani where we will have weaving masterclasses, and along with handwork, we will degustation several locally produced several Jams. After the productive first part of the day we will visit a local family whose host is a famous ,,Qvevri" maker we will go on through an explanation of the entire process of qvevri making we will degustation Qvevri wine and chacha and enjoy late delicious local family lunch. After that, we will accommodate you in a local hotel in Kvareli. And have a dinner.
Day 5 :
Drive to Lagodekhi, Picnic Lunch, and Wine Tasting
After breakfast, we will drive to Lagodekhi and will have several hours trekking in the beautiful nature of the Lagodekhi protected area we will have a picnic lunch in a beautiful spot After satisfying activity we will drive toward Tbilisi, stopping in the local Kakhetian village for BIO wine degustation and finally we will reach Capital where we will have tasteful dinner and accommodate in Hotel.
Day 6 :
Jinvali Resevoir, Ananuri Fortress, and Gergety Trinity Church Hike
After breakfast in the morning we will drive towards Stephantsminda we will see the beautiful Jinvali reservoir on the road after which, we will stop near Ananuri fortress which is one of the most beautiful and well-preserved medieval late feudal castles in an amazing location. After explaining the fortress and temple inside we will ahead farther to the north and visit the relationship monument of Georgia and Russia which is an amazing viewpoint on the river Aragvi Gorge. We will drive through Jvari Pass (2395m) and reach Stepantsminda via the road surrounded by alpine mountains and slopes full of streams. After reaching Stephantsminda we will have felt making masterclass and degustation locally produced jams. After this relaxing activity, we will hike at Gergety Trinity Church which is the highest-located cross cupola church in Georgia. After the Gergety Trinity hike, we will accommodate in a local mountain Guesthouse and enjoy dinner.
Day 7 :
Juta Village and Hike in Mountains and Truso Valley with Jeeps
After morning breakfast we will drive to Juta village(2200m) and start the short hike to see the mountain chain Chaukhebi. We will have free time in this beautiful scenery and return back to jeeps. After that jeeps will drive us to Trusso gorge amazing gorge of river Tergi which offers us deserted Georgian villages and fast-flowing river streams. We will reach the last Georgian village in the gorge called Abano enjoy free time and picnic and return back to Stephantsminda accommodation.
Day 8 :
Visit Two UNESCO Sites: Mtskheta and Jvari Monastery
After breakfast, we will drive towards the former Capital city of Georgia. we will see Jvari monastery (UNESCO legacy) on top of the mountain with unusual Architectural principles and enjoy one of the mesmerizing views of the old capital Mtskhetan (UNESCO legacy) with the confluence of two rivers. After the Jvari monastery, we will see the most important Cathedral Of Georgians Svetitskhoveli (UNESCO legacy) which surprises with reliefs and frescoes from different time periods. After this religious historical day, we will reach Tbilisi and have a free evening in the Capital.
Day 9 :
Dezeteer Bazaar and Farewell Dinner
After morning's breakfast, we will see the Dezerteer bazaar after getting introduced to the original Tbilisian bazar we will have free time to open an air flee market where we can see a lot of paintings and antique stuff from Soviet period. After this part of the program, we will have free time for optional Sulphur bathing. And we will conclude the tour with a farewell dinner in a Tbilisian restaurant.
Group Trip Cancellations.
If YCSMH has to cancel a group trip because a country has closed its borders, everyone will have a choice of receiving a refund or being rolled over to another group trip. The decision to cancel a group trip will be determined by myself and our local guides.
DEPOSITS PAID- CANCEL WITH NO REPLACEMENT
If you cancel a booking and cannot find a replacement the FULL deposit amount will be lost from the original person making the reservation.
DEPOSITS PAID- CANCEL WITH A REPLACEMENT – $100 Penalty
If YOU cancel and find your own replacement that "helps" but it doesn't alleviate the time and effort I must spend to get your replacement up to speed (answer questions and send previous emails). A $100 fee will be charged if you cancel and find your own replacement.
FULL PAYMENTS PAID- CANCEL WITH NO REPLACEMENT- 90 DAYS BEFORE TRIP DEPARTURE
Full payments for all Happy trips are due 90 days before departure. If you cancel the trip you will not be eligible to receive a refund. You will need to file a claim with your insurance provider. As a rule most tour vendors, charter companies and hotels require full payment 90 days before arrival. Once we have made reservations MOST resorts, Charter companies, rental shops, etc hold YCSMH financially responsible (i.e. we have to pay them, hence we expect YOU to pay us).
.
FULL PAYMENTS PAID- CANCEL WITH A REPLACEMENT- 90 DAYS BEFORE TRIP DEPARTURE
In the event of a cancellation, YCSMH will gladly help find a replacement but the responsibility to find the replacement is that of the person canceling. If you find a replacement to fill your spot you will be eligible for a full refund minus a $100 fee.
If YCSMH finds you a replacement you will receive a refund minus the trip deposit. As I mentioned there is a considerable amount of time and effort spent to send out emails to your replacement to get them up to speed.
I hope this helps clarify our terms as we all navigate through this post pandemic world. For those of us who are passionate travelers the small inconveniences of testing, insurance and entry requirements are well worth it.