DURATION
5 NIGHTS / 6 DAYS
Shared room : From $2500
or $3000 Private Room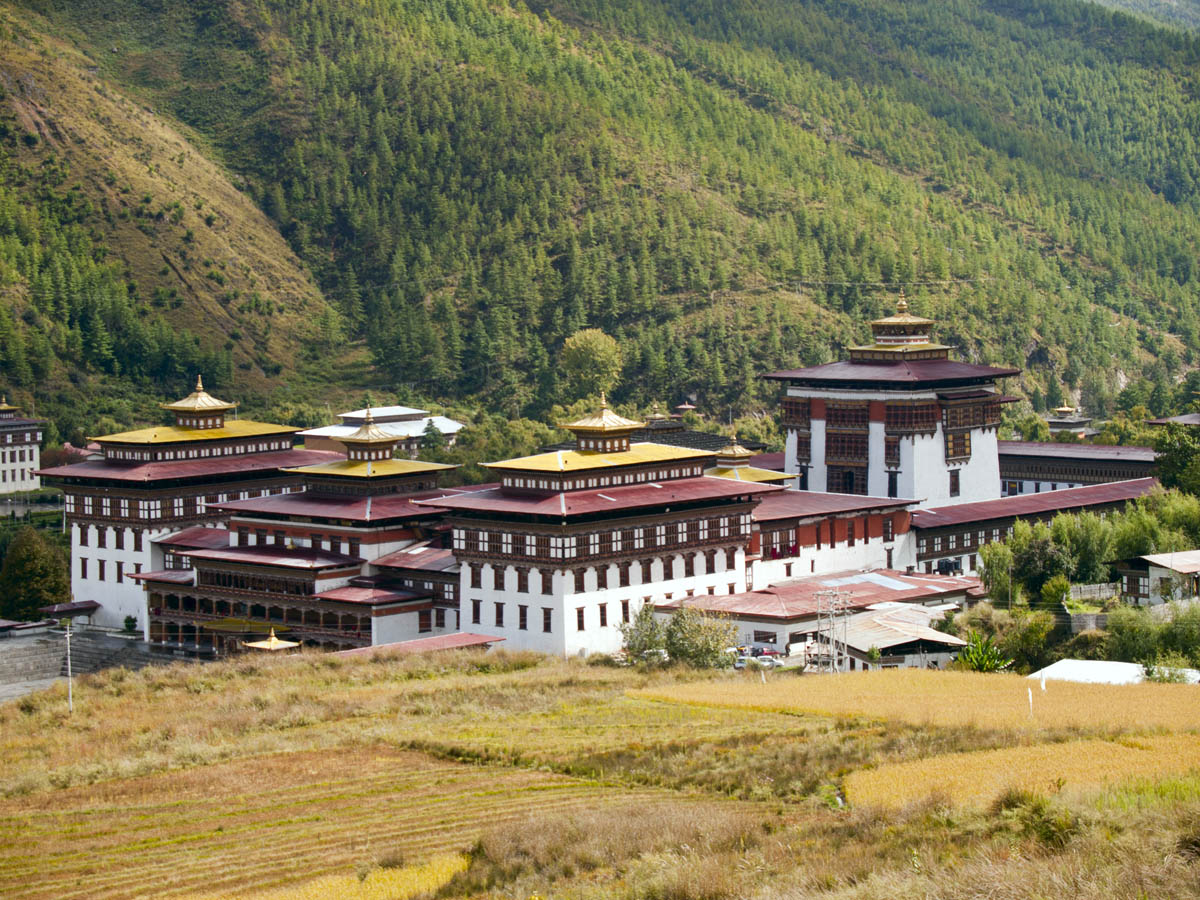 The trip is featuring light hikes, Tigers Nest, cultural tours, all meals, visa's, R/T trip air from Nepal
Bhutan is like nowhere else. This is a country where the rice is red and where chillies aren't just a seasoning but the main ingredient. It's also a deeply Buddhist land, where monks check their smartphones after performing a divination, and where giant protective penises are painted at the entrance to many houses. Yet while it proudly prioritises its Buddhist traditions, Bhutan is not a land frozen in time. You will find the Bhutanese well educated, fun loving and very well informed about the world around them. It's this blending of the ancient and modern that makes Bhutan endlessly fascinating. The Bhutanese pride themselves on a sustainable approach to tourism in line with the philosophy of Gross National Happiness. Foreign visitors famously pay a minimum tariff of US$250 per day, making it seem one of the world's more expensive destinations. However, this fee is all-inclusive – accommodation, food, transport and an official guide are all provided, so it's not a bad deal. Our price also includes r/t air from Nepal to Thimphu, Bhutan. We will arrive back to Nepal on the 5th day for an overnight in Kathmandu. 
All accommodation in Bhutan on full board basis

Car / Van for sightseeing with guide

Airport pick up and transfers

Airfare KTM – Paro – KTM

Bhutan Visa fee and travel permit, fees and other major monasteries entrance fees in Bhutan, 

 

(except photography fees)
Not included:
Personal travel insurance (HIGHLY RECOMMENDED)and all items of a personal nature, some lunch and dinner where not mentioned

Tips and gratuities, Major meals in cities in Kathmandu (where not mentioned)

Mountain, Road rescue or any other emergency evacuation charges if necessary

Expenses incurred as a result of illness, landslide, political disturbance, re-routing, flight cancellation and of any other unforeseen situation and events which is not under our control, int'l airfare and airport tax

Any kind of table drinks, telephone bills, laundry, postage etc

Nepal Visa cost, payable upon arrival
Travel Insurance:
Trips booked after January 1, 2023 will be required to have medical travel insurance for all You Can't Steal My Happy trips. 
You Can't Steal My Happy recommends that you purchase a travel protection plan to help protect you and your travel investment against the unexpected. For your convenience, we offer travel protection through Travelex Insurance Services. For more information on the available plans or to enroll, click on the link below or contact Travelex Insurance Services at 800-228-9792 and reference location number 43-0656    "Travel Insurance is underwritten by, Berkshire Hathaway Specialty Insurance Company, NAIC #22276. 55Y"
Click on the link below to get a free quote. 
Day 1 :
Oct 14 : Depart Kathmandu for Paro, Overnight at Thimpu
All the spirit of Nepal trip leave for home and the one who join Bhutan portion will fly Kathmandu to Paro Bhutan.
Prepare to shift gears as we leave the hustle and bustle of Kathmandu and fly east to the Kingdom of Bhutan. This is a country, aspart of the silk road, that has endured independence for centuries likeNepal and never been colonized! After arrival at Paro driving to Thimphu, we'll visit Tashichho Dzong, a Buddhist monastery and fortress on the northern edge of the city. Next it's onto the Tarkin wildlife reserve, the Weaving Centre and the School of Thirteen Arts and Crafts. Over dinner this evening at a local Bhutanese restaurant you'll have a chance to soak in your first culturally-immersive day in Bhutan.
Nice A class Hotel, Thimphu
Meals: B, L, D
Hiking Distance: Up to 2 kilometres (1.2 miles)
Elevation: Thimphu – 2334 metres (7657 feet)
Day 2 :
Oct 15 : Journey to Buddha Dordenma, hike to Changangkha Lhakhang Temple
Making the most of our day, we'll take an early breakfast before departing for Buddha Dordenma, overlooking Thimphu valley. Dating back to the 8th century A.D, this statue is said to emanate an aura of peace and happiness to the entire world! Afterwards we'll hike a forest trail down to Changangkha Lhakhang, a temple perched like a fortress above central Thimphu. Give the resident astrologer your birth date and he'll consult divination charts to decide which kind of protective prayer flags will benefit you. After lunch we'll journey down to the lush district of Punakha, known for the Punakha Dzong, a 17th century fortress. We'll take some time to explore this majestic fortress, which is the administrative centre of Punakha District.
A class Hotel, Punakha
Meals: B, L, D
Hiking Distance: Up to 5 kilometres (3 miles)
Elevation: Punakha – 1242 metres (4075 feet)
Day 3 :
Oct 16 : Hike to Chimi Lhakhang Temple
We'll stretch our legs after breakfast with a short hike through picturesque terraced fields to Chimi Lhakhang, the Fertility Temple. This Buddhist temple is renowned throughout Bhutan as a fertility inducing magnet – thousands make the pilgrimage each year in the hopes of having a child, as well as receiving a blessing from the saint with the 'magic thunderbolt of wisdom'. After some divine intervention, we'll take a drive to Paro taking lunch at Dochula pass or can make all the way to Paro Valley for Lunch ( Depends on time). When the weather is nice, this pass (3,100 m / 10,300 ft) offers tremendous views of the eastern Himalaya ranges. Along the pass there are an astonishing 108 memorial chortens and nearby is the country's very first Royal Botanical Park. In Paro you'll have the option to take a guided tour of Rinpung Dzong, though if you'd prefer to relax, you'll also have views of this Buddhist monastery from your hotel, as it's lit up in the evening.
A class Hotel, Paro
Meals: B, L, D
Hiking Distance: Up to 2 kilometres (1.2 miles)
Elevation: Paro – 2200 metres (7218 feet)
Day 4 :
Oct 17 : Hike to Taktsang (Tiger's Nest)
A trip to Bhutan is not complete until you've visited Paro Taktsang, Tiger's Nest. We'll take an early breakfast so that we can begin hiking whilst the trail is quiet – the trek is challenging – and thankfully this is what protects this extraordinary attraction from overcrowding. Once you've cleared the trees you'll get your first glimpse of the Tiger's Nest, somehow perched on the cliff high above the valley floor. Once at the monastery you'll take a fascinating tour of the buildings, with plenty of time to find a quiet spot and soak it all in. You'll be in awe, wondering how the buddhists established this area, first as a meditation cave in the 8th century and later as a monastery in the 17th century. Amazing! Because of our early start, beating the crowds, we'll be back in Paro in time for lunch.
(Note: if people wish to take horse one way up to Tiger nest it is possible at extra cost of USD 15 each)
This afternoon we'll savour our time in Bhutan with a visit to the Jowo Temple of Kyichu and then to the 'Farmhouse' for a Bhutanese Cultural performance and wait for it… Some hot stone baths!
A class Hotel, Paro
Meals: B, L, D
Hiking Distance: Up to 7 kilometers (4 miles)
Elevation: Paro – 2200 metres (7218 feet)
Day 5 :
Oct 18 : Paro – Kathmandu
Fly to Kathmandu – free in Kathmandu for shopping and bargain, chill in Kathmandu. B ( If some one need to fly this day they can fly late after 5 PM or so if not on 19th of Oct.) – stay in Kathmandu. B
Day 6 :
 Oct 19 : Goodbye!
Final Departure, transfer to airport.
Meals: B
Group Trip Cancellations.
If YCSMH has to cancel a group trip because a country has closed its borders, everyone will have a choice of receiving a refund or being rolled over to another group trip. The decision to cancel a group trip will be determined by myself and our local guides.
DEPOSITS PAID- CANCEL WITH NO REPLACEMENT
If you cancel a booking and cannot find a replacement the FULL deposit amount will be lost from the original person making the reservation.
DEPOSITS PAID- CANCEL WITH A REPLACEMENT – $100 Penalty
If YOU cancel and find your own replacement that "helps" but it doesn't alleviate the time and effort I must spend to get your replacement up to speed (answer questions and send previous emails). A $100 fee will be charged if you cancel and find your own replacement.
FULL PAYMENTS PAID- CANCEL WITH NO REPLACEMENT- 90 DAYS BEFORE TRIP DEPARTURE
Full payments for all Happy trips are due 90 days before departure. If you cancel the trip you will not be eligible to receive a refund. You will need to file a claim with your insurance provider. As a rule most tour vendors, charter companies and hotels require full payment 90 days before arrival. Once we have made reservations MOST resorts, Charter companies, rental shops, etc hold YCSMH financially responsible (i.e. we have to pay them, hence we expect YOU to pay us).
.
FULL PAYMENTS PAID- CANCEL WITH A REPLACEMENT- 90 DAYS BEFORE TRIP DEPARTURE
In the event of a cancellation, YCSMH will gladly help find a replacement but the responsibility to find the replacement is that of the person canceling. If you find a replacement to fill your spot you will be eligible for a full refund minus a $100 fee.
If YCSMH finds you a replacement you will receive a refund minus the trip deposit. As I mentioned there is a considerable amount of time and effort spent to send out emails to your replacement to get them up to speed.
I hope this helps clarify our terms as we all navigate through this post pandemic world. For those of us who are passionate travelers the small inconveniences of testing, insurance and entry requirements are well worth it.