DURATION
10 NIGHTS / 11 DAYS
SHARED ROOM : FROM $1500
or $1800 Private Room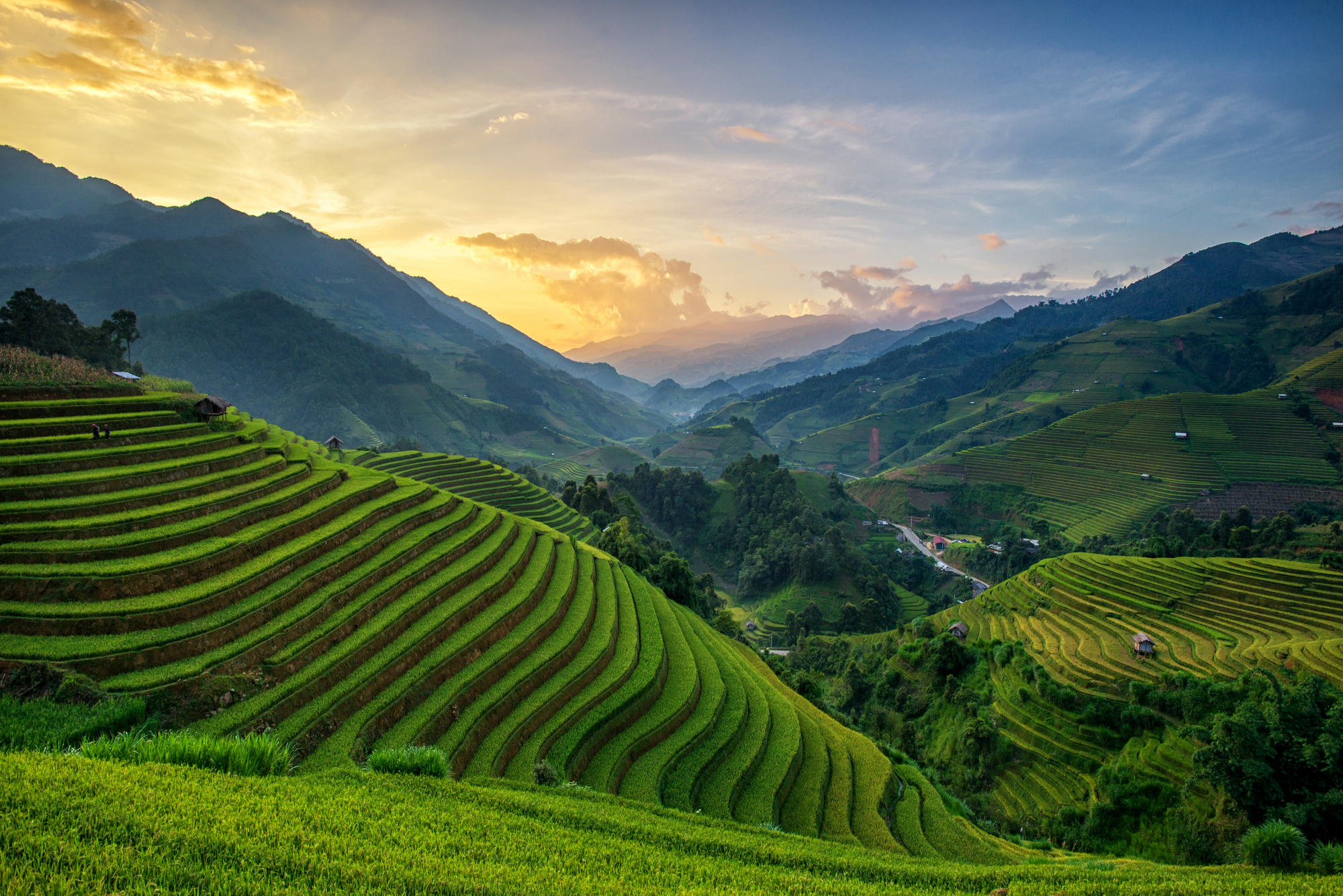 Featuring biking, cooking tour, Marble Mountain, beaches, and custom clothing
The legacy and history of central Vietnam are incredibly rich. Get a glimpse of the Central Vietnam, you'll visit three fascinating UNESCO World Heritage Sites: Hue's Imperial City, Hoi An's ancient town, and the enigmatic My Son sanctuary. The major attractions are obviously history, culture and fantastic nature on the way you travel along the central coastline, and picturesque drives up the Hai Van Pass if you're looking for something different.
Enjoy scenic drive along the beautiful coast of Vietnam

Vietnam countryside ride

Shopping in Hoi An Ancient town

Cooking class & market

Visit Hue Imperial City-UNESCO SITE

Equipped with explorers, to become a cave explorer,

Admire the millions of years old stalactites

Visit the Vinh Moc Tunnels 

Visiting and experiencing the life of Bru -Van Kieu people.

Visiting Long Dai ferry, a lifeline traffic point on Ho Chi Minh road is legendary. The legendary 10 road, together with the A72 information station – a national historical monument which has an important position in the Vietnam War.
Travelers are responsible for international airfare to and from Vietnam.
Meals not mentioned in the itinerary are not included. Personal Drinks, any additional activities or transfers, gratuities, medical expenses or additional entrance fees to theatres, parks, museums/visitor centres not outlined in this itinerary, additional travel expenses or waiting time. Travel insurance and personal spending are travelers responsibility.
Private transfer for whole trip as itinerary mentioned

Daily complimentary breakfast




Bicycle tour in Hoian




English speaking guide

All meals mentioned in the itinerary




All entrance tickets for included tours




Twin share rooms accommodation for group from 18-24 people

 

(hotel-homestay-camping)




Boat trip to visit Phong Nha Cave
TOUR EXCLUSIONS
Additional food, drinks & optional tours


Individual airport transfer on departure day 

Tips/gratuities for your driver and guide


Other expenses note mentioned in the itinerary
Travel Insurance:
Trips booked after January 1, 2023 will be required to have medical travel insurance for all You Can't Steal My Happy trips. 
You Can't Steal My Happy recommends that you purchase a travel protection plan to help protect you and your travel investment against the unexpected. For your convenience, we offer travel protection through Travelex Insurance Services. For more information on the available plans or to enroll, click on the link below or contact Travelex Insurance Services at 800-228-9792 and reference location number 43-0656    "Travel Insurance is underwritten by, Berkshire Hathaway Specialty Insurance Company, NAIC #22276. 55Y"
Click on the link below to get a free quote. 
Day 1 :
Arrival Danang Airport
Upon arriving at Danang international airport, our bus & tour guide will pick you up at the airport and then transfer to Laluna Hoi An Riverside Hotel. Check in at the hotel, relax until we meet later this evening for our group dinner at a local restaurant.
Hotel: Laluna Hoi An Riverside Hotel (Deluxe Room)
Meals: D

Day 2 :
Bicycle Tour to Discover Rural Vietnam
Spend a day leisurely cycling though the scenic countryside of Vietnam, far from the traffic the motor scooters, and the noises of the city. You will cross the islands on the Song Thu river delta using local transportation.
This tour will take you to discover how wooden river boats are made, learn the secret of weaving the colorful straw "Hoi An" sleeping mats Try the renowned Vietnamese basket boats and much more You will spend the day with first-hand contact with one of the rural inhabitant of the region, far from the usual tourist circuits. At lunchtime you will be invited into the home of a local Vietnamese family for a traditional Vietnamese meal, and learn their customs and traditions. After you have relaxed for a while under the shade of a mango tree, you will begin your return towards Hoi An by boat, which will take about 35 minutes.Back to the hotel.
Departure 8:30 AM and return 3 PM (times are approximate)
Laluna Hoi An Riverside Hotel (Deluxe Room)
Meals: B, L
Day 3 :
Free Day
Enjoy an included breakfast at our hotel. Today is yours to enjoy how you please!
Hotel: Laluna Hoi An Riverside Hotel (Deluxe Room) 
Meals: B
Day 4 :
Sabirama Cooking Tour with Mr. Quy
Complimentary Breakfast at the Hotel. We will leave the hotel at 10:30 am for the coolest cooking adventure ever! This tour features a walk around the local market, private boat excursion, a ride on a water buffalo, foot massages, and of course cooking classes. Tour includes lunch (Recommended attire, tennis shoes, shorts, bathing suit, sunscreen)
Hotel: Laluna Hoi An Riverside Hotel (Deluxe Room) 
Meals: B, L
Day 5 :
Hoian-Hue Imperial City
After breakfast at the hotel, our private bus and guide will pick us up from our hotel at 8 AM. We depart Hoi An and make our way to the ancient Vietnamese capital of Hue. The journey takes you on a 3-hour drive through the Hai Van Pass which is one of the most breathtaking routes in Vietnam. In addition to the amazing views of the mountains and ocean, you will see many US military bunkers from the war.
We arrive around noon in Hue and you will have free time to discover the city. This afternoon, we will have an optional Motorbike countryside tour ($25) 
Hotel: Alba Hotel
Meals: B
Day 6 :
Hue Half Day City Tour
Breakfast is included at the hotel. At 8:30 AM, we will tour the ancient city of Hue to visit the Imperial capital including the Imperial Citadel, Thien Mu Pagoda, which is  listed as a World Cultural Heritage Site. Sitting on the banks of the delightful Perfume River you will find amazing citadels, fabulous palaces, and royal tombs (Minh Man King, Gia Long King, Chai Dinh King, and more). Many of the sites can be reached by river and this makes an excellent way to see the city. After vivting the pagoda you will take a dragon boat along the Perfume River to see these amazing sites. 
Hotel: Alba Hotel
Meals: B
Day 7 :
Hue-Phong Nha
After breakfast at the hotel, we will depart at 9 AM to travel to Phong Nha. Our journey is roughly a 3 hour drive. Phong Nha is in the heart of the cave region of Vietnam. On the way we will visit the Vinh Moc Tunnels which was an underground network of tunnels used during the war. Then, you will arrive at our homestay hotel visit to relax.
Hotel: Restful River Bungalow
Meals: B
Day 8 :
Paradise Cave and Phong Nha
Breakfast is included at the hotel. Today, we will discover Paradise Cave – the longest dry cave in Asia and Phong Nha Cave treks. You will then be taken by golf cart (1.6 km) from the main gate through the jungle, to where you will then climb two the mouth of the cave; a climb that boasts spectacular views of the mountain region around the cave. At 12:30 PM, you will enjoy an included lunch at a local restaurant in Phong Nha village. The lunch will include a traditional Vietnamese dish (vegetarian option available).
After lunch around 1:30 PM, we will depart the Phong Nha Cave. We will then take a 25 minute ride to the cave by a traditional dragon boat. This cave is called a water cave as it exhibits an underground river. After going into the cave by boat, you will explore 300 meters into the cave on foot. Then, you will be taken back by boat. This cave is famous for its spectacular rock formations. It has been given such names as the "Lion", the "Fairy Caves", the "Royal Court", and the "Buddha".
We will arrive back to our hotel around 5 PM. 
Hotel: Restful River Bungalow
Meals: B, L
Day 9 :
Cha Loi Discovery
Be prepared today, as we will embark on a 4-5 mile jungle hike, swim in caves, and view waterfalls.
At 8:30 AM, we will go to Sung village to be provided with some specialized and necessary equipment for cave exploration (flashlight, shoes, gloves, etc.). Our tour guide will show you how to use the equipment for your adventure, as well as share some principles for cave exploration. After that, you will experience the unique feature of Hang Nuoc Cave, also known as Ong Giap Cave (according to locals).This trek is inside a cave that requires guests to walk, climb and swim. It's not technical, but if you have knee issues, or are not in good physical shape you should not consider entering the cave. We can arrange a cultural tour. 
After experiencing Hang Nuoc, you will arrive at A72 information station entrusted with the task of ensuring communication for the Southern battlefield. Many important Viet Com commands were transmitted in this cave from 1971-1973.
Then, you will journey to discover Cha Loi Cave. Here, visitors will experience many activities like walking, climbing, crawling, and swimming to experience the 4 KM+ journey inside the cave. During this discovery trip, you will get to take many pictures of beautiful spots inside the cave. In addition to admiring the magnificent stalactite system and adventure experience, visitors will come to see the beautiful Tunnel of Love.
At 2 PM, you will venture out of the cave to enjoy lunch with a local restaurant. After lunch, you will have some time to relax.
Hotel: Overnight in Dong Hoi City
Meals: B,L,D
Day 10 :
Journey Back to Danang for Street Food Tour!
After breakfast, we will depart at 9 AM to travel to Danang. This journey has an estimated driving time of 6.5 hours. We will stop on the way at Hue City for an optional group lunch. We expect to arrive in Danang between 4-5 PM. Today, we will meet for our group's Farewell Dinner.
Hotel: Sofiana Hotel Danang
Meals: B
Day 11 :
Departure
After breakfast at the hotel, you will depart back home.
Meals: B
Group Trip Cancellations.
If YCSMH has to cancel a group trip because a country has closed its borders, everyone will have a choice of receiving a refund or being rolled over to another group trip. The decision to cancel a group trip will be determined by myself and our local guides.
DEPOSITS PAID- CANCEL WITH NO REPLACEMENT
If you cancel a booking and cannot find a replacement the FULL deposit amount will be lost from the original person making the reservation.
DEPOSITS PAID- CANCEL WITH A REPLACEMENT – $100 Penalty
If YOU cancel and find your own replacement that "helps" but it doesn't alleviate the time and effort I must spend to get your replacement up to speed (answer questions and send previous emails). A $100 fee will be charged if you cancel and find your own replacement.
FULL PAYMENTS PAID- CANCEL WITH NO REPLACEMENT- 90 DAYS BEFORE TRIP DEPARTURE
Full payments for all Happy trips are due 90 days before departure. If you cancel the trip you will not be eligible to receive a refund. You will need to file a claim with your insurance provider. As a rule most tour vendors, charter companies and hotels require full payment 90 days before arrival. Once we have made reservations MOST resorts, Charter companies, rental shops, etc hold YCSMH financially responsible (i.e. we have to pay them, hence we expect YOU to pay us).
.
FULL PAYMENTS PAID- CANCEL WITH A REPLACEMENT- 90 DAYS BEFORE TRIP DEPARTURE
In the event of a cancellation, YCSMH will gladly help find a replacement but the responsibility to find the replacement is that of the person canceling. If you find a replacement to fill your spot you will be eligible for a full refund minus a $100 fee.
If YCSMH finds you a replacement you will receive a refund minus the trip deposit. As I mentioned there is a considerable amount of time and effort spent to send out emails to your replacement to get them up to speed.
I hope this helps clarify our terms as we all navigate through this post pandemic world. For those of us who are passionate travelers the small inconveniences of testing, insurance and entry requirements are well worth it.