DURATION
9 NIGHTS / 10 DAYS
SHARED ROOM : FROM $1900
or $2300 Private Room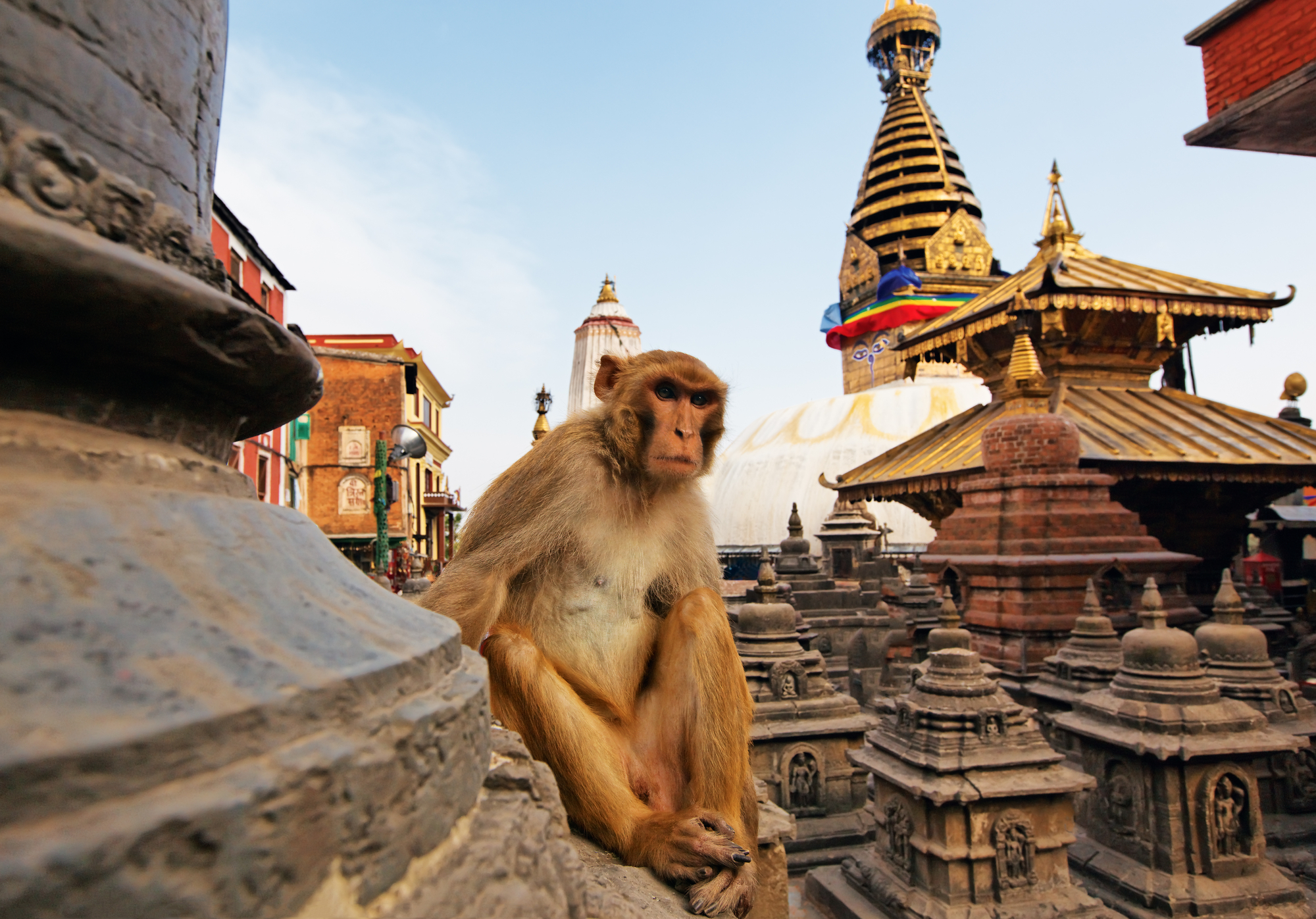 Featuring cultural tours, jeep safaris, light hiking, white water rafting, canoeing and 4 star hotel stays in Kathmandu, Pokhara, and Chitwan National Park.
Take an enchanting tour of three incredibly beautiful cities in Nepal in style for a diverse and wide range of experience. The exceptional cities of Kathmandu, Pokhara and Chitwan offer you such an experience which will completely change your life perspective.
This well designed Nepal tour shows you some incredible historical cultural heritage sites in Kathmandu where you get an extraordinary experience of immersing into culture, art, architecture, history, spirituality and many other diverse aspects of Nepali life style. Then the tour takes you to an unbelievably beautiful city of Pokhara which is also famous as "city of lakes" in Nepal. You will get an opportunity to take a breathtaking close up look at Annapurna range in the Himalaya, a stunning sunrise view, calming boat ride on the lake. White water rafting on the Trishuli River promises too be an unforgettable experience. While Chitwan National Park – UNESCO heritage site has an amazing jungle safari tour to offer you.
Stay in 4 star luxury hotels; enjoy mouthwatering cuisine; take an immersion into culture, history, art and spirituality; be excited to see the breathtaking views of mountains and lake; expect to see one horned Rhino and Bengal Tiger and enjoy an exquisite Nepali cultural dinner. For the enthusiasts of soft adventure in Nepal, this trip is the perfect option.
This soft adventure tour of Nepal will change your perspective towards Nepal if you have assumed Nepal being only a trekking destination. Nepal has so many other places to visit and things to see other than Everest base camp trekking, Annapurna base camp trekking and other trekking activities. The diversity in Nepal is unparalleled and the experience unbelievable.
This 10 days tour of Nepal is one of the trips that operates in the safe zone that were unaffected by the recent earthquakes in Nepal.
Transfer service on arrival and departure
All Accommodation and 4 star properties
9 Breakfast, 3 Lunch and 4 Dinners Included
Full Day City Sightseeing tour of Kathmandu Unesco sites
Overland Round Transportations by Private vehicle
Soft hiking from Sarangkot to nearest village and other activities
Amazing Jungle Safari activities in Chitwan National Park
All Monument Entrance Fees, white water rafting in Trishuli river
Traditional Nepal dinner with Cultural Show
Professionally Guided Trip
Travelers are responsible for international airfare to and from Kathmandu, Nepal.
Meals not mentioned in the itinerary are not included. Personal Drinks, any additional activities or transfers, gratuities, medical expenses or additional entrance fees to theatres, parks, museums/visitor centres not outlined in this itinerary, additional travel expenses or waiting time. Travel insurance and personal spending are travelers responsibility.
Personal Expenses and Travel Medical Insurance, We highly recommend trip insurance for this trip to protect you and your investment. Click here to get a free quote. https://www.travelexinsurance.com/index.aspx?location=43-0656&go=bp
Extra tours not mentioned in itinerary
Extra Meals not mentioned in Itinerary
Any Table Drinks, Tips to Guide and Driver
R/T Airfare from USA to Kathmandu, Nepal
Nepal Visa – you can either purchase in advance or upon arrival (recommended)
You can choose to purchase the visa in advance or simply get the visa on arrival. Visa cost is $30.00 for 15 day multiple entry and $50 for a 30 day multiple entry visa. For those who want to purchase the visa ahead of time you can click on this link. https://nepaliport.immigration.gov.np/online
Travel Insurance:
Trips booked after January 1, 2023 will be required to have medical travel insurance for all You Can't Steal My Happy trips. 
You Can't Steal My Happy recommends that you purchase a travel protection plan to help protect you and your travel investment against the unexpected. For your convenience, we offer travel protection through Travelex Insurance Services. For more information on the available plans or to enroll, click on the link below or contact Travelex Insurance Services at 800-228-9792 and reference location number 43-0656    "Travel Insurance is underwritten by, Berkshire Hathaway Specialty Insurance Company, NAIC #22276. 55Y"
Click on the link below to get a free quote. 
Day 1 :
Kathmandu – Arrival
On arrival you will be welcomed and received on your arrival at Tribhuvan International Airport (KTM), Kathmandu by our staff member. You will then be transferred and checked into hotel. We will have a meet and greet reception at the hotel in the evening so you can meet your fellow travelers and guides.
Day 2 :
Kathmandu Exploration Day (B)
After breakfast in the morning, we go for the Kathmandu sightseeing tour. We are going to do the UNESCO CULTURAL HERITAGE TOUR today which includes:
 Swoyambhunath – The oldest Buddhist Stupa in Kathmandu Valley, a beautiful abode for lots of monkeys thus also known as Monkey Temple, is also a perfect vantage point to see Kathmandu valley.
Pashupatinath– A holy pilgrimage for Hindus and Hindu Crematorium, watch as the Hindu dead bodies are cremated in the most unique way in the world; we come across men with ash rubbed body, matted locks and dreaded look which is typical look of a Hindu Holy Men known as Sadhus.
Boudhanath– the biggest Buddhist temple in the world; a site for Tibetan Buddhism where we can visit monasteries, watch the Holy Monks busy in their chanting ritual going around the temple.
Patan Durbar Square– A Medieval Royal Palace area which is also known as the city of fine arts, we can see the finest example of metal and stone carving back to 14th century and also the amazing Nepali Architecture.
Day 3 :
Kathmandu – rafting and river bank stay (B, L, D)
After breakfast we drive about 3-4 hours drive to start rafting in Trishuli river, an experience of Himalayan white water rush. Once we reach to the riverbank we will have some briefing about rafting, safety and on the equipment start rafting for about 3 hour and stop for a nice buffet lunch at Romantic riverbank camp. – Stay that night at River Fun Beach resort. Around 4 Pm can go for hiking around the rural village area for 1.5 hours and back to resort for tea / Beer. Evening some music and BBQ party with camp fire.
( People who don't want to join the rafting have option of going to the river bank camp early, swim, rest and stay there until the group arrive)
Day 4 :
River Fun beach resort to Pokhara (B)
Early morning breakfast and check out hotel to go to Pokhara. A two and 3 hours' drive takes us to the amazingly beautiful city of Pokhara 200 km west of Kathmandu. This is another scenic drive although a shorter one. Once you reach Pokhara, check into hotel and have some free time until the lunch. After lunch, get ready for a serene and beautiful walk along the lake Fewa. As you take stroll along the lake you can enjoy the view of the beautiful mountain peaks in the Annapurna range. Have relaxing evening.
Approximate Distance – 105 km
Approximate Travel Duration – 3 Hrs
Day 5 :
Pokhara – Naudanda – Pokhara (B/L)
Wake up early in the morning and drive to Sarangkot, a beautiful hill in Pokhara famous for Sunrise, for 35 minutes. A real Closed-up look of the Annapurna and Fishtail, and the unparalleled Sunrise from there makes a perfect start of our day. Enjoy the Mountain View breakfast after the sunrise and prepare for an about three (3) hours walk to Naudanda on a very gentle trail. You will be walking through beautiful mountain village immersing into the cultural and natural beauty of the area. Once you finish your hike, enjoy the meal in one of the mountain restaurants. You will be relaxed and ready move ahead by the time you finish the lunch. Drive for about half hour to a spiritual center of beautiful Buddhist monastery at Hemja. Explore the surrounding of the monastery until the prayer starts at three. Feel high in spirituality as you enjoy the chanting of the rituals by the Buddhist monks; immerse into the meditative atmosphere for about one and half hours before the prayer end s. Drive back to Pokhara, relax at hotel and enjoy the leisure time.
Day 6 :
Pokhara Exploration Day (B)
After breakfast you go to the lake, hire a boat to cross it and hike up to World Peace Stupa, a nice hiking destination in Pokhara which will take about one hour to reach the top. It's a beautiful viewpoint and a Buddhist Pilgrimage as well. You will be picked up from Peace Stupa and driven down to visit Davis falls and an ancient and longest cave in South Asia. Drive back to Pokhara and enjoy a free afternoon. You can choose to do some adventure activities like Paragliding, ultralight flight, bungee jump and Zip flyer as well with an extra cost. Stay in hotel
Day 7 :
Pokhara – Chitwan (B, L, D)
After breakfast we will fly to Chitwan National Park. The flight is a 22 minutes to reach this beautiful National Park. Once we arrive we will stop by a local market and purchase needed items for a local orphanage visit. We will then check into our lodge for lunch. After lunch we will head to the orphanage to drop off donations and play with the children. Chitwan national park was once the hunting ground of British and Nepalese aristocrats. Today, the animals – elephant, rhinoceros, tiger, leopard and deer – are protected, not shot. The greatest thrill here is to scout for wildlife on the back of an elephant. This national park is enlisted in the UNESCO's Natural Heritage Site.
Day 8 :
Chitwan Exploration Day (B/L/D)
Full day in Chitwan National Park go for Jeep riding, canoeing, visit to crocodile breeding center, bird-watching etc. A nature guide will lead us through all the activities giving us more insights about the wildlife, flora and fauna in the national park. View of wild and aquatic life like rhinoceros, deer, bear, crocodile, and different birds can make our day there. Tharus are aboriginal people of the area who have their own language, culture and tradition.
Day 9 :
Chitwan – Kathmandu (B/D)
Mid morning we will fly from Chitwan to Kathmandu (25 minutes). Later in the evening, we go for farewell Nepali dinner with cultural show in Kathmandu and can have discussion about the trip experience.
Approximate Distance: 170 km
Day 10 :
Departure Day (B)
Today is our last day of the tour so we will transfer you to airport for the departure to home. Departure flight will be in the evening back to Home. Namaste!
( people who wish to do Bhutan tour can join from Oct 14 – 19, Bhutan and fly out of Nepal to home).
Group Trip Cancellations.
If YCSMH has to cancel a group trip because a country has closed its borders, everyone will have a choice of receiving a refund or being rolled over to another group trip. The decision to cancel a group trip will be determined by myself and our local guides.
DEPOSITS PAID- CANCEL WITH NO REPLACEMENT
If you cancel a booking and cannot find a replacement the FULL deposit amount will be lost from the original person making the reservation.
DEPOSITS PAID- CANCEL WITH A REPLACEMENT – $100 Penalty
If YOU cancel and find your own replacement that "helps" but it doesn't alleviate the time and effort I must spend to get your replacement up to speed (answer questions and send previous emails). A $100 fee will be charged if you cancel and find your own replacement.
FULL PAYMENTS PAID- CANCEL WITH NO REPLACEMENT- 90 DAYS BEFORE TRIP DEPARTURE
Full payments for all Happy trips are due 90 days before departure. If you cancel the trip you will not be eligible to receive a refund. You will need to file a claim with your insurance provider. As a rule most tour vendors, charter companies and hotels require full payment 90 days before arrival. Once we have made reservations MOST resorts, Charter companies, rental shops, etc hold YCSMH financially responsible (i.e. we have to pay them, hence we expect YOU to pay us).
.
FULL PAYMENTS PAID- CANCEL WITH A REPLACEMENT- 90 DAYS BEFORE TRIP DEPARTURE
In the event of a cancellation, YCSMH will gladly help find a replacement but the responsibility to find the replacement is that of the person canceling. If you find a replacement to fill your spot you will be eligible for a full refund minus a $100 fee.
If YCSMH finds you a replacement you will receive a refund minus the trip deposit. As I mentioned there is a considerable amount of time and effort spent to send out emails to your replacement to get them up to speed.
I hope this helps clarify our terms as we all navigate through this post pandemic world. For those of us who are passionate travelers the small inconveniences of testing, insurance and entry requirements are well worth it.