DURATION
6 NIGHTS / 7 DAYS
SHARED ROOM : FROM $1500
or $2000 Private Room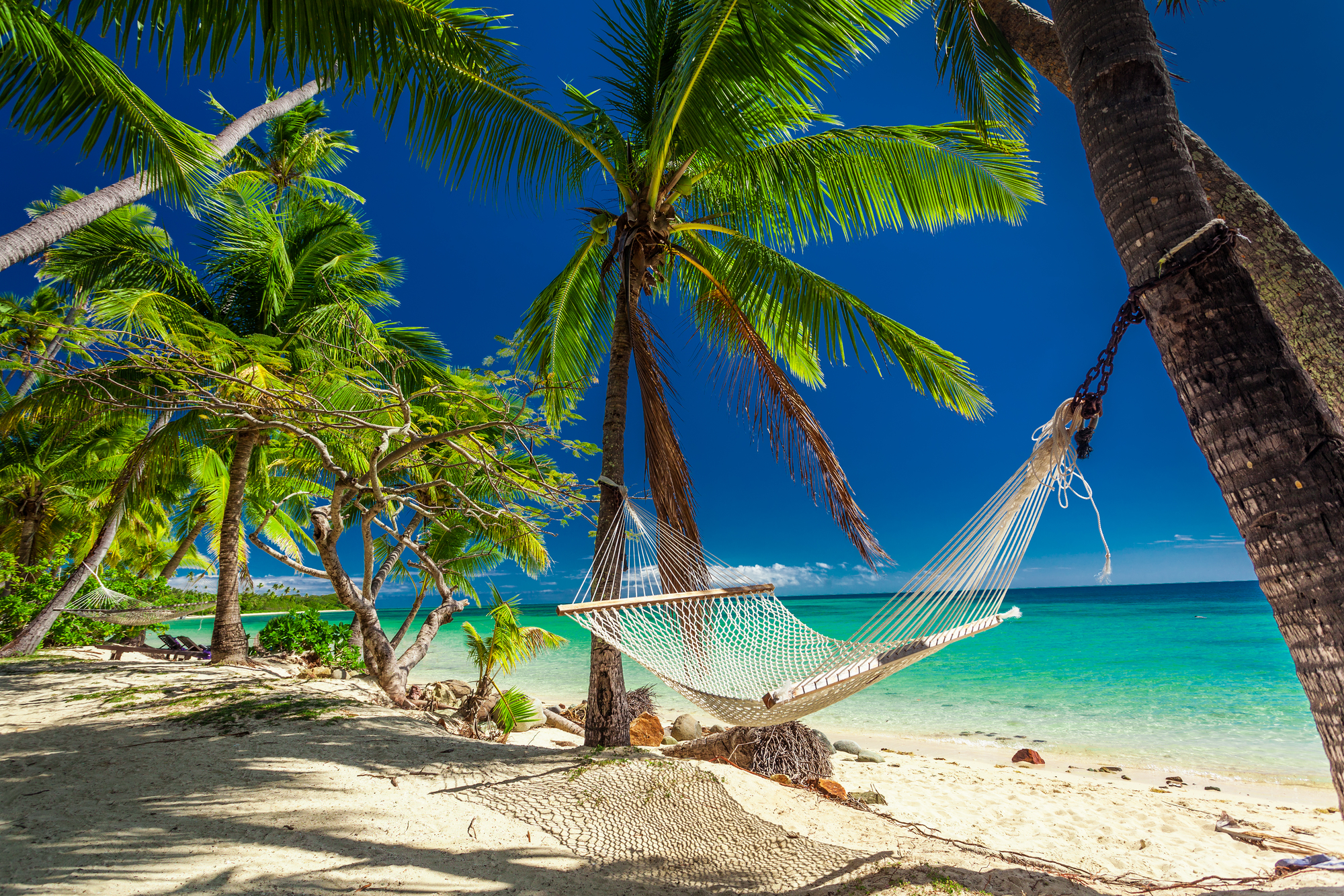 Featuring full day sailing, snorkeling, white water rafting, cultural tour, and jet boating
Join us in fabulous Fiji for a week of laughter and adventure. This itinerary is packed with activities, but we have also left time for you to just relax and chill on a beach. No need to worry about packing and unpacking as we will be embarking on day trips from our hotel. Your hotel is located on the Coral Coast, about 9 miles from Sigatoka Sand Dunes National Park and 18 kms from Sigatoka Valley. The Nadi International Airport is 40 miles away. Located opposite a Lagoon Beach and coral reef, our hotel features a restaurant with live Fijian music and an outdoor pool set amongst tropical gardens. A full daily breakfast is included in your stay. A detailed list of our activities is included in the itinerary section, but here are a few highlights.
You will take part in a unforgettable rafting journey through the Upper Navua Gorge taking you through some of the country's most formidable and phenomenally beautiful terrain in the relative comfort of inflatable rafts. This trip fetaures multiple waterfall viewings. We will sail and snorkel on a catamaran to the coral reef and sand bank at Malolo lailai Island. You will travel by jet boat down the Sigatoka River visiting authentic Fijian villages and learning about their customs. If you enjoy laughing, dancing, exploring, and adventure then this trip is for you. Please no drama queens or kings!!! Bring a friend or family member, but make sure they are fun!
Transfer service on arrival
Accommodations
All Breakfasts
Full Day Catamaran/Snorkel Trip (lunch included)
Upper Navua Rafting Trip
Jet Boat and Village Safari Tour
Travelers are responsible for international airfare to and from Fiji
Meals not mentioned in the itinerary are not included. Personal Drinks, any additional activities or transfers, gratuities, medical expenses or additional entrance fees to theatres, parks, museums/visitor centres not outlined in this itinerary, additional travel expenses or waiting time. Travel insurance and personal spending are travelers responsibility.
Travel Insurance:
Trips booked after January 1, 2023 will be required to have medical travel insurance for all You Can't Steal My Happy trips. 
You Can't Steal My Happy recommends that you purchase a travel protection plan to help protect you and your travel investment against the unexpected. For your convenience, we offer travel protection through Travelex Insurance Services. For more information on the available plans or to enroll, click on the link below or contact Travelex Insurance Services at 800-228-9792 and reference location number 43-0656    "Travel Insurance is underwritten by, Berkshire Hathaway Specialty Insurance Company, NAIC #22276. 55Y"
Click on the link below to get a free quote. 
Day 1 :
November 9th
Arrive Nadi Airport where you will be picked up and transferred to our hotel. The ride takes approximately 45 minutes -1 hour. Your pick up transfers are included in your package, but you will need to arrange your return to the airport. At 5pm we will have a meet and greet reception at the hotel where you will get to know your fellow travelers and go over our activates for the week.
Day 2 :
November 10th
Enjoy complimentary breakfast. Today we will enjoy a full day aboard our catamaran sailing. Our destination for the day is the coral reef and sand bank at Malolo lailai Island with lunch stop at Musket Cove Island Resort. 
Our day starts at Port Denarau, the exciting central hub for marine activity in Fiji. Once we're all aboard we can drop the lines, hoist the sails and leave the busy main Island for our ultimate Fijian day out on the water. Our professional local crew will entertain and inform, with their knowledge of the local marine life, history and folk law. Look out for dolphins, turtles, flying fish and seabirds. 
Our first stop is the world famous snorkeling sand quay where the calm clear waters and abundant fish life make for an amazing snorkeling experience. From first timers to veteran divers, our crew will ensure everyone has the best and safest experience possible.
Just 10 minutes away is the picturesque Malolo lailai Island where a sumptuous Fijian BBQ lunch with all the trimmings is laid on.  An Ice cold Fiji bitter, a refreshing cocktail or fresh fruit juice can be purchased from the world famous Island bar. Then there's time to relax on the beach, swim, or stroll along the white coral sand around Musket Cove and Plantation Island resorts. 
Buffet lunch is included. 
Day 3 :
November 11th
Enjoy complimentary breakfast. Today is a full day rafting day adventure that you will never forget. In the remote highlands of Viti Levu lies one of the most unique river trips on Earth. Slicing a deep chasm through the island's tropical interior, the Upper Navua River is our hidden pathway to a pristine tropical wilderness. Shrouded in lush rain forest, fed by countless waterfalls and protected by challenging rapids, the Upper Navua River is Fiji rafting at its best.There is not one waterfall but many (some say at least seventy); not one short stretch of deep, narrow canyon, but kilometers. This is a place where black volcanic walls are at points barely five meters apart and over forty meters high and fringed by emerald rainforest. This is a place where man has been merely an intermittent visitor at best, where some of the wildest and most beautiful Fiji can still be found.Enjoy complimentary breakfast.
Day 4 :
November 12th
Enjoy complimentary breakfast. Today is a free day to relax and explore on your own. Enjoy another activity or enjoy kayaking in front of the hotels lagoon.
Day 5 :
November 13th
Enjoy complimentary breakfast. Today is a free day to relax and explore on your own. Enjoy another activity or enjoy kayaking in front of the hotels lagoon.
Day 6 :
November 14th
Enjoy complimentary breakfast. Enjoy complimentary breakfast. Fiji's original and the world's first Jet Boat & Village Safari, is the multiple award winning Sigatoka River Safari . This half-day eco/cultural adventure transports you deep into the heart & soul of Fiji, aboard a custom-built safari jet boat. Cruise your way up the magnificent Sigatoka River to visit authentic Fijian villages and experience a day in the life of the real 'kaiviti' (Fijian).
Day 7 :
November 15th
Enjoy complimentary breakfast. Today is departure day and there are no activities planned. Checkout is at 11am. Transfers to the airport can be arranged at the hotel and they are not included in your package. 
Getting to Fiji.
Fiji aIr operates flight to Nadi out of LAX and SFO from North America. There are also numerous daily flights out of Auckland and Sydney. Click on this link to see all the airlines and cities that have flights to Fiji.
Group Trip Cancellations.
If YCSMH has to cancel a group trip because a country has closed its borders, everyone will have a choice of receiving a refund or being rolled over to another group trip. The decision to cancel a group trip will be determined by myself and our local guides.
DEPOSITS PAID- CANCEL WITH NO REPLACEMENT
If you cancel a booking and cannot find a replacement the FULL deposit amount will be lost from the original person making the reservation.
DEPOSITS PAID- CANCEL WITH A REPLACEMENT – $100 Penalty
If YOU cancel and find your own replacement that "helps" but it doesn't alleviate the time and effort I must spend to get your replacement up to speed (answer questions and send previous emails). A $100 fee will be charged if you cancel and find your own replacement.
FULL PAYMENTS PAID- CANCEL WITH NO REPLACEMENT- 90 DAYS BEFORE TRIP DEPARTURE
Full payments for all Happy trips are due 90 days before departure. If you cancel the trip you will not be eligible to receive a refund. You will need to file a claim with your insurance provider. As a rule most tour vendors, charter companies and hotels require full payment 90 days before arrival. Once we have made reservations MOST resorts, Charter companies, rental shops, etc hold YCSMH financially responsible (i.e. we have to pay them, hence we expect YOU to pay us).
.
FULL PAYMENTS PAID- CANCEL WITH A REPLACEMENT- 90 DAYS BEFORE TRIP DEPARTURE
In the event of a cancellation, YCSMH will gladly help find a replacement but the responsibility to find the replacement is that of the person canceling. If you find a replacement to fill your spot you will be eligible for a full refund minus a $100 fee.
If YCSMH finds you a replacement you will receive a refund minus the trip deposit. As I mentioned there is a considerable amount of time and effort spent to send out emails to your replacement to get them up to speed.
I hope this helps clarify our terms as we all navigate through this post pandemic world. For those of us who are passionate travelers the small inconveniences of testing, insurance and entry requirements are well worth it.